Product Description
Vibrating Fluid Bed Dryer
Description:
Vibrating fluidized bed dryer is a new technology developed on the basis of static fluidized bed. Mechanical vibration is added on the fluidized bed. Wet material particles enter the air stream and form a fluidized bed. The material is ejected due to exciting force. Vibrations of an air distributing plate incite the fluidization of material particles and the movement of material in the fluidized bed. The fluidized material contacts the hot air and at the same time carries on heat and mass transfer. The dried product is discharged through the discharge port.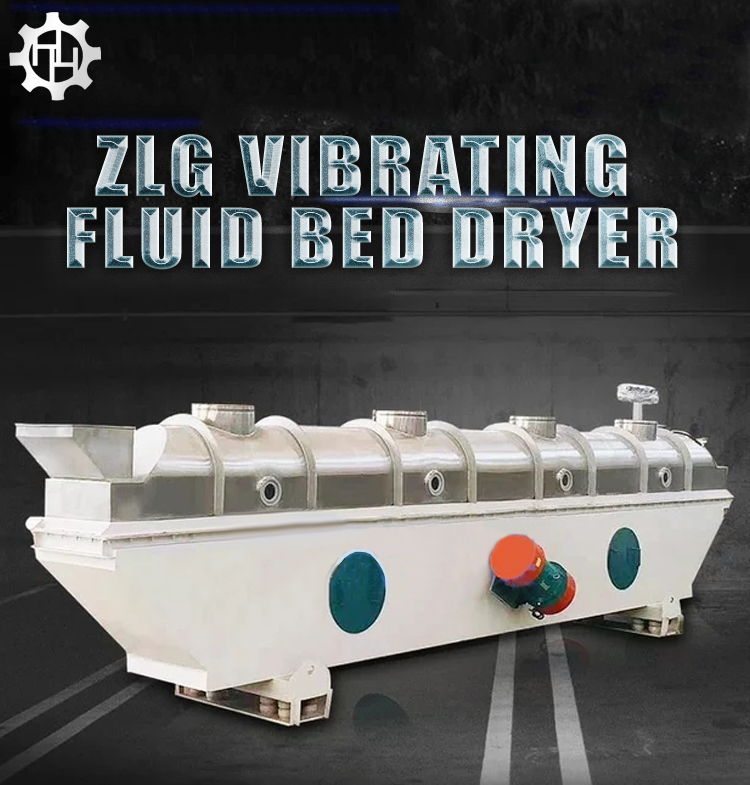 Work Principle:
The material has been feed into the machine, under the dual function of the vibration and air flow, the material move along the fluidized bed as throwing forward continuously. Hot air upward through the fluidized bed and wet materials from the heat after the exchange, after the cyclone dust emissions from dry materials from discharging from the mouth.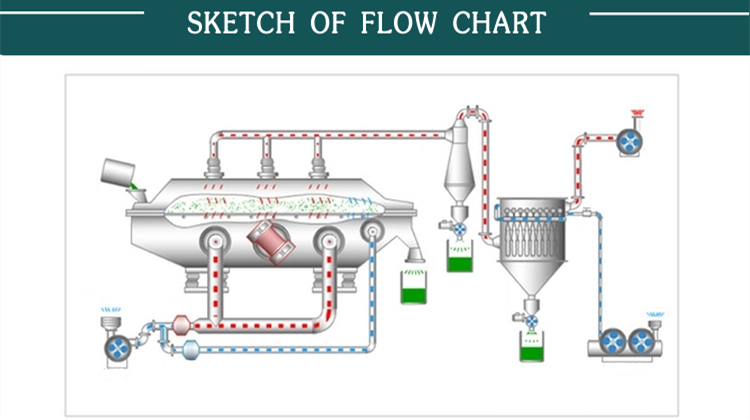 Product Characteristics:
♦Materials have been heated evenly, full exchanged the heat. It is a process of large intensity of drying.
♦ The vibration motor drive has been used, with the advantages of smooth operation, easy maintenance, low noise, long life
♦ It flows stability, with no dead angle and blown through phenomenon.
♦ It is adjustable, wide adaptation. The moving speed of the bed depth and the material in the dryer can achieve stepless adjustment by the changes of the amplitude.
♦ It makes small damage to the surface of the material, can be used for the drying of the fragile materials and will not affect the work results if the particles are irregular.
♦ It uses full closed structure; effectively prevent the cross-contamination of the materials and air, clean operation environment.
♦ Materials drying time is basic equality, residence time is short, bed depth is small, usually 2 ~ 5cm.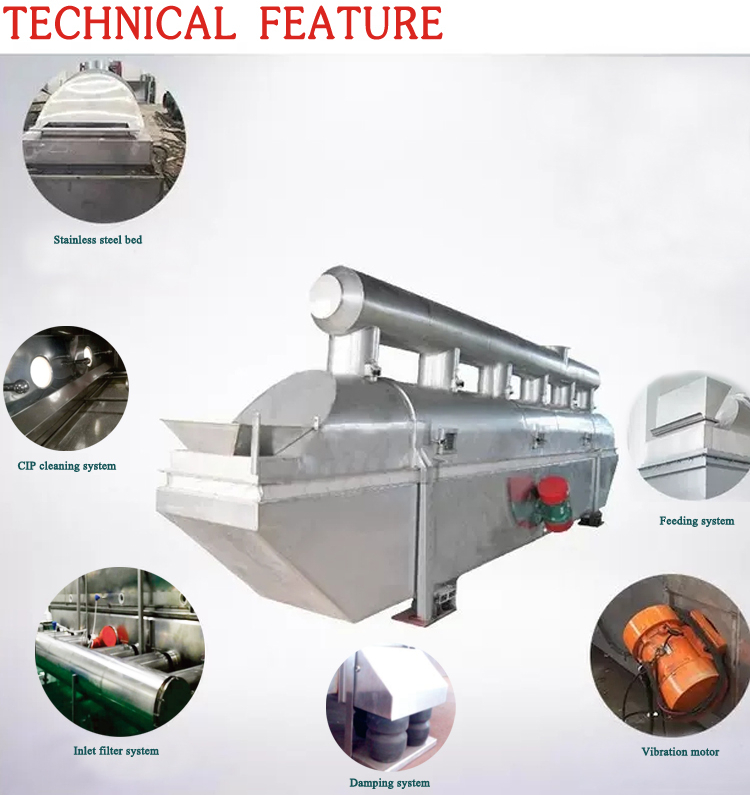 Material to be dried:
♦ Petrochemical industry
I> Inorganic: borax, boric acid, glass fibers, ammonium hydrogen fluoride, potassium permanganate, sodium perborate, ammonium thiocyanate, sodium thiocyanate, cobalt sulfate, nickel sulfate, zinc sulfate heptahydrate, ammonium chloride, calcium, strontium chloride, sodium chlorate, strontium, copper sulfate pentahydrate, sodium chlorite, sodium sulfite, ammonium nitrate, calcium nitrate, sodium nitrate, potassium bromide, sodium bromide, sodium sulfate, sodium salt
II> Organics: oxalic acid, succinic acid, hydroquinone, p-nitrobenzoic acid, fumaric acid, pentaerythritol, resorcinol, catechol, calcium hypochlorite, sodium silicate, GDL, sodium gluconate, thiourea, sorbitol, dicyandiamide, iminodiacetonitrile, itaconic acid III> Fertilizer: potassium dihydrogen phosphate, calcium hydrogen phosphate, Monoammonium Phosphate, ammonium sulfate, magnesium sulfate heptahydrate
IV> Pesticides: Imidacloprid granules, granules glyphosate
V> Polymer: High-absorbent resin, a polystyrene resin, sodium polyacrylate
VI> Chemicals: washing powder
VII> Chemical additives: methyl cellulose, polyacrylamide, hydroxyethyl cellulose
♦ Food and beverage industry:
L-arabinose, acesulfame, erythritol, trehalose, caramel, tartaric acid, coffee, bread crumbs, milk powder, citric acid, potassium citrate, sodium citrate , maltitol, xylose, xylitol, Ru refined, sugar, potassium sorbate, salt, sodium saccharin, monosodium glutamate, sodium iso-VC,
♦ Pharmaceutical medical industry:
honeysuckle, paracetamol, taurine, vitamin C
♦ Animal husbandry and fishery industry:
canola ,seeds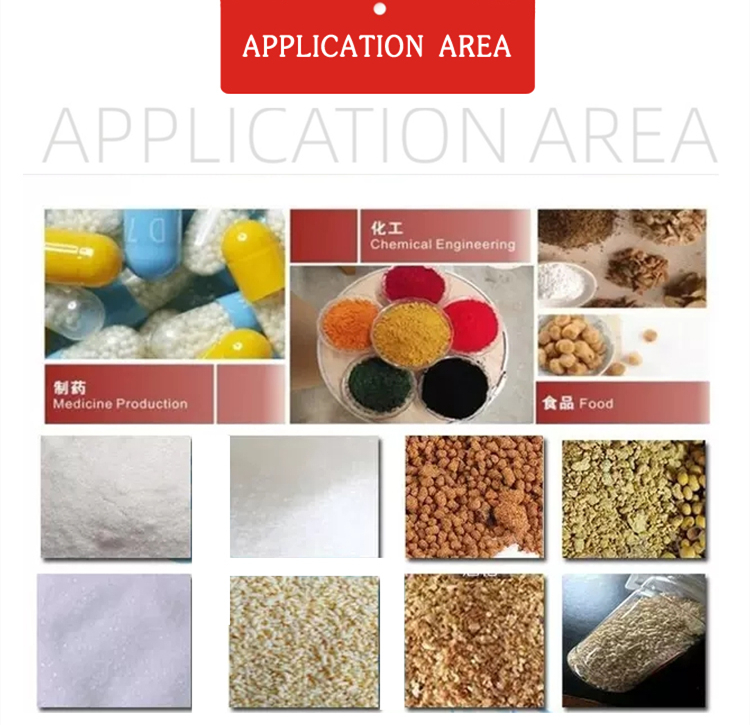 Application Range:
It is can be used for drying or cooling process, for the uneasily fluidized products because of large particles or irregular particles, or that require a lower fluidization rate in order to maintain the integrity of the particles and the drying of easy-to-adhesive, temperature-sensitive products and the surface water removal of the crystal water-containing materials.
Technical Parameter:
Size
Model

A

B

C

D

E

F

Weight(kg)

ZLG3×0.30

3000

300

1350

900

430

1650

1250

ZLG4.5×0.60

4500

600

1650

950

430

1700

1670

ZLG6×0.60

6000

600

1700

1000

500

1700

2410

ZLG6×0.75

6000

750

1850

1000

600

1850

2840

ZLG6×0.9

6000

900

2000

1000

600

1850

3160

ZLG7.5×0.75

7500

750

2000

1000

600

1850

3600

ZLG7.5×0.9

7500

900

2100

1000

600

1850

4140

ZLG7.5×1.2

7500

1200

2500

1150

800

2050

5190
Model

Area of fluidized-bed(M

2

)
Temperature of inlet air (

o

C)
Temperature of outlet
(

o

C)
Capacity to vapor moisture (kg)

Vibration motor

Model

Power Kw

ZLG3×0.30

0.9

70-140

40-70

20-35

ZDS31-6

0.8×2

ZLG4.5×0.60

2.7

70-140

40-70

70-90

ZDS32-6

1.1×2

ZLG6×0.60

3.6

70-140

40-70

100-130

ZDS41-6

1.5×2

ZLG6×0.75

4.5

70-140

40-70

120-140

ZDS42-6

2.2×2

ZLG6×0.9

5.4

70-140

40-70

140-170

ZDS42-6

2.2×2

ZLG7.5×0.75

5.625

70-140

40-70

150-180

ZDS51-6

3.0×2

ZLG7.5×0.9

6.75

70-140

40-70

160-210

ZDS51-6

3.0×2

ZLG7.5×1.2

9

70-140

40-70

200-260

ZDS51-6

3.0×2

Griffin Technology Manufacturing Co., Ltd.
Griffin technology manufacturing Co,. Ltd, a factory with more than ten years experience of professional and technical industrial service. locates in Changzhou city of Jiangsu. Our company has 2 large modern construction machinery manufacturing plant, equipped with whole line of sheet metal bending, laser cutting, automatic polishing, automatic welding, occupies an area of 500,000 square meters. Also we have our own R&D team, which has a number of talents and individual test lab. We are specializing in researching and developing drying machine, such as spray dryer, mesh belt dryer, fluid bed dryer, flash dryer, air stream dryer, vacuum dryer, plate dryer and so on. As auxiliary machines of drying machine, we also supply mixer, granulator, grinder and screener, roller compactor, air flow mixing system and air flow conveyor. With rich experience, we keep leading in design and manufacturing Chinese herbal extract spray dryer, flavouring spray dryer, hydrolyzed protein spray dryer, desiccated coconut drying machine, coconut meat mesh belt dryer, pharmaceutical spray dryer, vegetable and fruit dehydrator (mesh belt dryer), bread crumb fluid bed dryer, enzyme spray dryer, chicken powder production line, seaweeds drying processing line, gelatin production, WDG production line and so on. Based on keeping stable quality of drying, mixing, granulating, crushing and sieving machines, we actively research and develop new product, like roller compactor, airflow conveying and mixing system, vacuum belt dryer, try to supply turnkey projects to our customers.




Company Name: Griffin Technology Manufacturing Co., Ltd.
Representative: wanxingwei
Product/Service: Spray Dryer , Fluid Bed , Belt Dryer , Vacuum Dryer , Drying Equipment , Dryer
Capital (Million US $): 1170,000RMB
Year Established: 2002
Total Annual Sales Volume (Million US $): US$10 Million - US$50 Million
Export Percentage: 81% - 90%
Total Annual Purchase Volume (Million US $): US$5 Million - US$10 Million
No. of Production Lines: Above 20
No. of R&D Staff: 21 -30 People
No. of QC Staff: 51 -60 People
OEM Services Provided: yes
Factory Size (Sq.meters): 5,000-10,000 square meters
Factory Location: 198 Yunhe Road,Xinbei District,Changzhou,China
Contact Person: Mr. Frank
Tel: 86-17605290094